Dread, Collapse, and Video Games
A tactical withdrawal in Portland, NATO woes, and bad times at the old arcade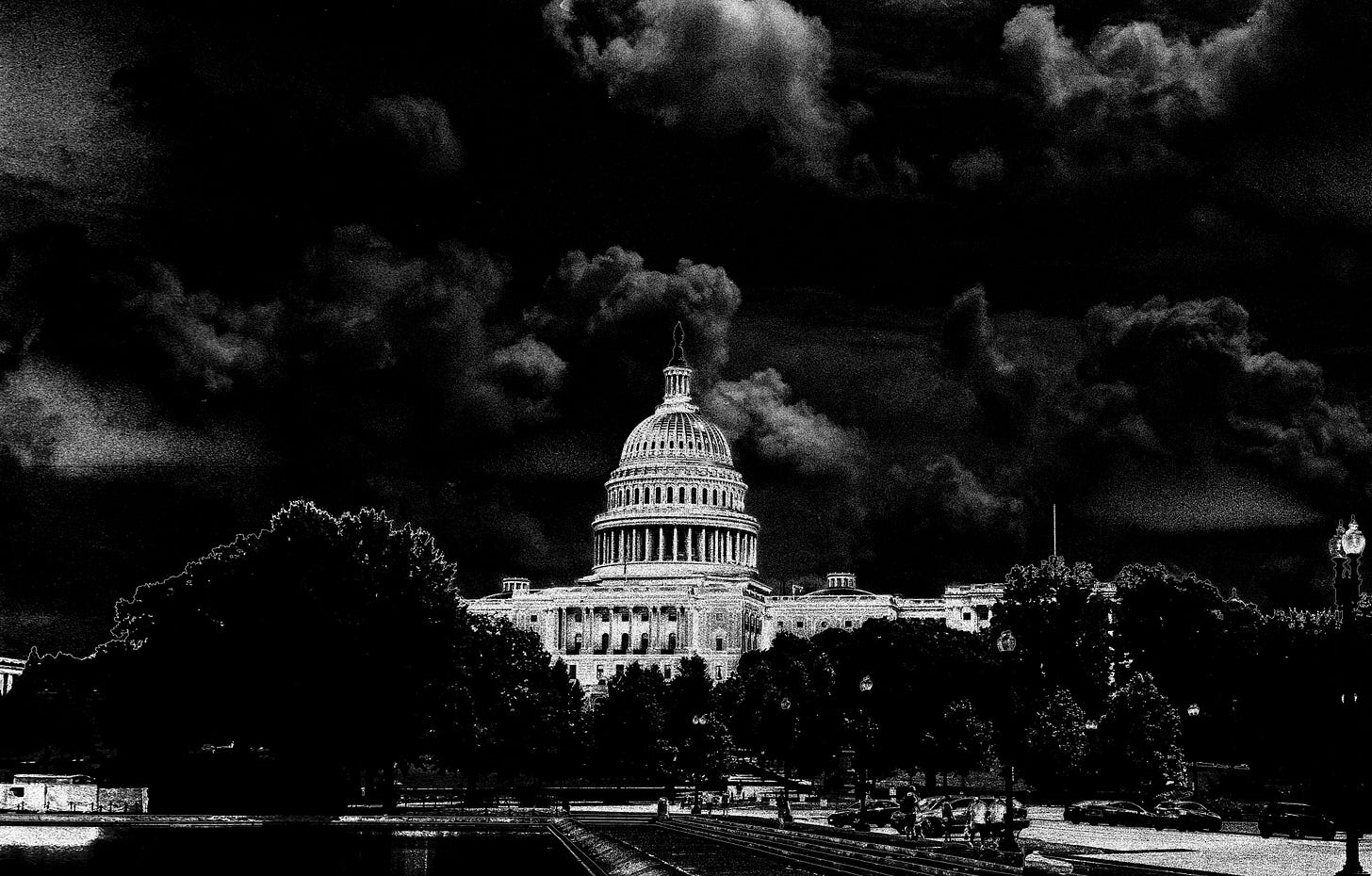 Hello and welcome to the Information War, Angry Planet's (War College's) weekly catalogue of a world in conflict. Every week Jason, Kevin, and Matthew watch the news and sort through the signal and noise so you don't have to.
It was a busy week for war in all its forms. Trump floated the idea of banning TikTok, federal agents left Portland, thousands of protesters took to the streets in Israel to demand the resignation of Prime Minister Benjamin Netanyahu, and U.S troops are leaving Germany and doubling down on video games.
A sort-of peace settled on Portland
Operation Legend—one of the names for the Department of Homeland Security's ongoing efforts to curb alleged violence on American streets—is ongoing. Portland is grabbing the headlines, but DHS agents recently expanded operations into Cleveland, Detroit, and Milwaukee. Agents landed in Chicago this week and have already started making arrests.
Federal agents left Portland, but their egress was conditional. "Our entire law enforcement presence that was currently in Portland… will remain in Portland until we are assured that the courthouse and other federal facilities will no longer be attacked nightly," acting DHS secretary Chad F. Wolf said Wednesday.
As part of the agreement, 130 federal agents are staying behind as a quick-reaction force (QRF). In military parlance, a "QRF is an uncommitted force designed to handle emergency responses for forces operating in the assigned area of operations." "A quickly deployed and reactive military force isn't new, but the term "QRF" is straight out of the wars in Afghanistan and Iraq. When the military strategies used on the fringes of the empire come home, that's fascism. 
In another invocation of the Global War on Terror, DHS compiled intel on journalists and protesters in the Portland area and turned them into baseball cards. In the early days of the Iraq War, Coalition forces published a deck of 55 playing cards emblazoned with the faces of the most-wanted players in Saddam Hussein's regime.

As federal agents left, Portland Police officers stepped up to the plate. Journalists and activists in the city reported renewed force from PPB over the weekend. Homicides are up across the city and protestors are pushing local leaders for change.
In a rare bit of good news for protesters and others who hate the spread of facial recognition technology—even your local Rite Aid, may have been using it for a decade—anti-Covid masks are messing things up.
Trump doesn't think NATO is so neato
The leader of the free world is pulling thousands of troops out of Germany, once the front line of defense against the Soviet Union, and a U.S. ally since its ass kicking at the end of World War II.
Without overarching military support from the United States and other NATO members, Germany might have to spend more money on defending itself. It spends quite a bit less than the NATO-required 2% of GDP, but it already has the second-largest military force in Western Europe.
Whether or not you agree with President Trump's argument that the United States is pulling back from Germany because they're military cheapskates, there's no doubt that plenty of other countries are perceiving signs of weakness. NATO's cracks are starting to show.
Speaking of Germany…
The ideological descendants of those very same Nazis, whose ass kicking was mentioned above, have been very active in the former Fatherland recently. Over the weekend, they marched 17,000 strong to protest wearing masks to stop the spread of Covid-19.
Unfortunately, there's more: Meet the Northern Cross (Nordkreuz), a group of angry men with fascist tendencies who went so far as to order body bags and quicklime to help deal with their "enemies," including immigrants. Three years after they were discovered, they are now being tried. "In court, it took prosecutors almost 45 minutes to read the list of cartridges, guns, explosives and knives they had found," according to The New York Times.
And last month, a company of German special forces had to be disbanded because of right-wing sympathies. 
The esports conundrum
Rep. Alexandria Ocasio-Cortez (D-NY) stood on the floor of the House this week and defended an amendment to an appropriations bill that would stop the Pentagon from spending money on recruitment via Twitch. The measure failed its final vote.
Ocasio-Cortez began her plea to curb recruitment via video games with a quote from the U.S. Marine Corps. "War is not a game," she said, quoting a Marine document from January 2020.
The Marines don't have an esports team, but that doesn't mean they aren't using video games for recruitment. "While the Marine Corps does not have any eSports teams, local recruiting units have marketing partnerships involving eSports. These include partnering with eSports Stadium in Arlington, TX," the same document said.
Recently, participants in an online tournament at Esports Stadium Arlington could enter into a contest to win prizes. One of the prizes was the chance for an active duty Marine to drop in to their game and chat with the player about Marine life while playing Call of Duty: Warzone.
In other "games as war" news, Israel Defense Forces can soon control a new tank with an Xbox controller. It's called the Carmel and the tank also uses Google's DeepMind artificial intelligence system, an AI initially trained by playing thousands of hours of Starcraft II.
Angry Planet
As America cedes its leadership position on the world stage, other powers are filling the vacuum. One example is Iran, which is picking up where the United States long ago left off, in Somalia.
Last week, a U.S. F-15 buzzed an Iranian commercial plane flying over Syria. This week the Islamic Revolutionary Guard Corps towed a fake U.S. Navy-style aircraft carrier into the Strait of Hormuz and launched ballistic missiles at it.
During World War II, posters reminded soldiers "loose lips sink ships." Today, a comic book warns troops that a bad Tinder date could get a U.S. asset killed.
Five years after its release, fans of Metal Gear Solid V: The Phantom Pain have achieved the impossible: a world free of nuclear weapons.
Ever wonder how the Casio F91W became a terrorist Icon? Reaper Feed has the answer. 
Top image: Jason Fields photo