Welcome to the Information War
Trouble in Afghanistan, fake journalists, Fort Hood, and some thoughts on the resumption of nuclear testing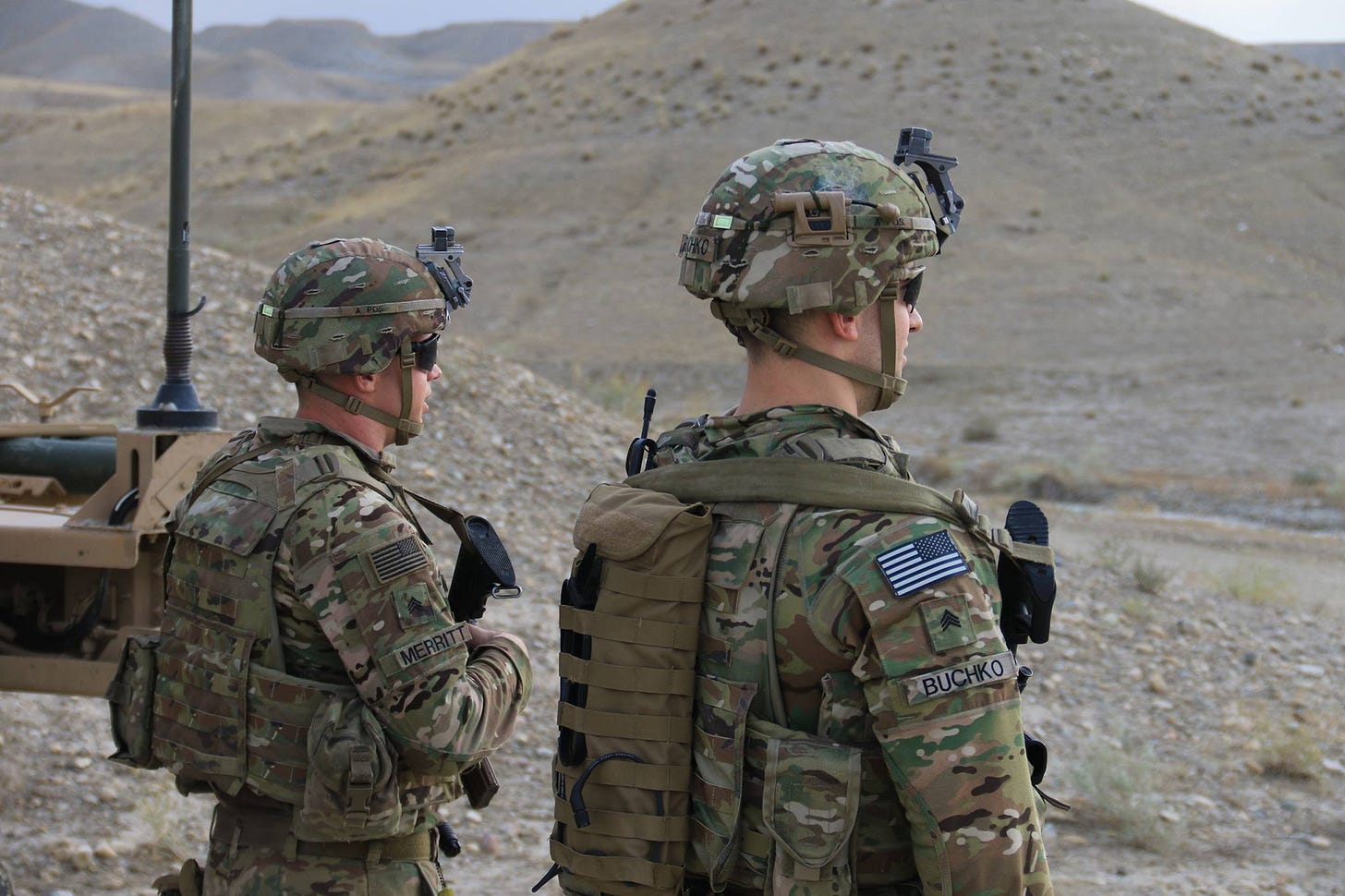 Welcome to the War College newsletter, a weekly rundown of the best national security coverage the War College team has read during the previous week. There will also be shameless self-promotion, begging for cash, salvaged bits from the cutting room floor, and a little context to help you make sense of the wide range of conflicts on our angry planet.
The most frequent question listeners ask us is "what should I be reading on this subject?" This newsletter is our attempt to help answer that question. Jason, Kevin, and I read a lot of defense news every week. Some of it is bad, most of it is mediocre, and sometimes there's a gem. We aim to bring you the gems, filter out the bad, and provide context to the mediocre.
The world is complicated. War has changed. It's grown long and weird. Increasingly, it's the journalist's job not just to deliver the news, but to slog through an ever-growing stream of information, sort through it, and tell the reader what's important and what can be ignored. There's a constant tide of both signal and noise and not everyone has the time to move through Twitter threads, sort out what's true from what's false,
We want to help you figure out what's going on without getting terminal internet poison. We've already got it. We're lost. There's no reason you have to be.
Here's what we're seeing this week and what we'll be watching in the week ahead.
The Disinformation Game
At The Daily Beast, War College alum Adam Rawnsley broke an incredible story about a disinformation network placing op-eds in outlets like The National Interest and The Washington Examiner. This wasn't just fake news, but fake journalists. LinkedIn profiles, bylines, and even photographs were invented to support a disinformation campaign that was tough on Iran and Qatar.
Some of the photographs were pulled from stock footage websites and altered slightly, but many were created by an artificial intelligence. This AI works by running photographs of real people through a generative adversarial network (GAN). The AI then "learns" the common traits among faces and randomly pieces them together to create new faces.
America's Forgotten War
The Washington Post ran an excellent feature on "The Cursed Platoon" in Afghanistan. Among U.S. President Donald Trump's pardons this week was 1st Lt. Clint Lorance. Trump called the former U.S. Army officer a hero. The soldiers under his command—those that survive—feel differently. In a followup piece, veterans chimed in on the story of the The Cursed Platoon, sharing their thoughts and their grief.
Elsewhere in Afghanistan news, evidence is mounting that Russia offered bounties to Taliban-linked militants for the deaths of U.S. troops. The New York Times is owning the story, which began life as a news piece backed by a source in U.S. intelligence. But now Insider is reporting that it's confirmed the bounties with three separate Taliban sources. Other voices from the Taliban have denied the bounty program. U.S. Defense Secretary Mark Esper has been less than forthcoming. Russia has repeatedly denied the allegations. "You know, maybe I can say it's a little bit rude, but this is 100 percent bullshit," Kremlin spokesman Dmitry Peskov told NBC News. "It's an undiplomatic thing, but it's bullshit."
Peskov is known for his civil-service salary and expensive taste in watches.
Meanwhile, U.S. troop levels in Afghanistan are down by a third. Four months ago, America maintained 13,000 soldiers in the country. Today that number is around 8,600. Far from talking peace, the Taliban is claiming a military victory.
On the Homefront
In 2016, the Pentagon agreed to open all combat roles to women as well as men, including those in Special Operations. At a socially distanced graduation, the first woman in American history received her Special Forces tab.
At Fort Hood in Killeen, Texas, investigators have suspects in custody for the slaying of Spc. Vanssa Guillen. The grizzly killing has been detailed in multiple outlets, and Spc. Guillen's story is a stark counterpoint to the rise of the Army's first female Green Beret. As women take on a more prominent role in the American military, there has been harassment, ostracization, and death.
For the last 20 years, the Pentagon has been using video games to drive recruitment. The U.S. Army, Air Force, and Navy all have official esports teams. Now they also have Twitch channels, streaming schedules, and participate in big tournaments. Sources inside those communities have told me they've seen recruiters trying to chat up tournament goers about a life in the service while squaring off in matches. Fighting games and first-person shooters seem to be the go-to, but probably only because they have the most organized competitive scenes.
The Army's team has been the most public and it learned an important lesson about online culture this week. During a Twitch stream of Call of Duty: Warzone, viewers attempted to chat to the player—a 12-year Army Veteran and Green Beret—about American war crimes. It didn't go well.
Our nukes, ourselves
There aren't many nuclear treaties left, and right now Washington and Moscow are negotiating the renewal of New START. The treaty limits the number of warheads each country can deploy. Trump has repeatedly called on China to enter the negotiations and join the treaty. Beijing rejected the invitation last week. In a press conference, Fu Cong, director general of the Department of Arms Control at China's foreign ministry, told journalists that China would only join the talks if the U.S. agreed to lower the number of its nuclear weapons to match China's.
Experts estimate that China has around 290 nuclear weapons. The United States and Russia have more than 6,000 each.
Trump also wants to resume nuclear testing, something the U.S. hasn't done since 1992. At Slate,Kelsey Atherton detailed all the reasons resuming nuclear testing would be bad for the environment, public health, and international relations. The benefits are harder to see.
"They believe Russia and China are conducting low-yield tests. In order to enhance our leverage in negotiating with them, they want to start testing. The idea being that if we were exploding nuclear weapons in the desert, the Russians and the Chinese would pay us something to stop," Jeffrey Lewis, Director of the East Asia Nonproliferation Project at the Middlebury Institute of International Studies, told me when I asked him about the tests.
Angry Planet
It is the 25th anniversary of the Srebrenica genocide. In the genocide, Bosnian Serbs killed more than 8,000 Bosniak men and boys. It was a genocide of Muslims in Central Europe and victims' bodies are still being uncovered. But as the event fades into memory, denial that it even occurred is becoming mainstream.
Protests and demonstrations are occurring in Serbia. News from reputable sources is light, but journalist Jake Hanrahan is following the conflict on social media.
Tensions between India and China continue to rise after a fight in the Himalyan mountains where they share a poorly demarcated border.
Germany is dealing with the fallout of a historic financial fraud at Wirecard, a financial services company. The bizarre story now involves a Libyan militia and Russian troops.
Protests continue in Hong Kong and in the streets of America. The Justice Department announced the launch of "Operation Legend," which it describes as a joint effort of federal and local law enforcement to fight against what it alleges is historic violence on U.S. streets. (It isn't) The program will launch in Kansas City, Mo.
What we're reading
Jason and I are both reading Mark Galeotti's A Short History of Russia. Ahead of interviewing Mark this week.
I'm also making my way through Putin's People by Catherine Belton and Everything Was Forever, Until It Was No More by Alexi Yurchak. So I suppose I'm on a Russia kick at the moment, with a particular focus on the end of the Soviet era.
Jason just finished up the prequel to the Hunger Games trilogy, The Ballad of Songbirds and Snakes, and says it's interesting to see a sociopath—President Snow—be born.